Have you ever seen a visually impaired person in public and didn't know how to react, or felt awkward? Have you ever wondered what it's like to 'see' through the eyes of their guide dog? I know I have.
September is National Guide Dog Month, so I decided to learn more about what it might be like for people who are blind or visually impaired.
I'm partnering with Natural Balance (the maker of premium-quality pet food) and Guide Dogs for the Blind (a non-profit charitable organization that raises and trains exceptional guide dogs to serve the blind and visually impaired) to recognize the 'Top Human-Canine Teams Who Make Us Believe.' Co-Founder of Natural Balance Dick Van Patten was the first to suggest Guide Dog Month.
There are nine teams that are outstanding examples of the amazing partnerships possible between humans and canines. We picked Bruce Gilmour and his guide dog Marley. Living in the Pacific Northwest Vancouver B.C. is about 4 hours North of us and I want to share their story with you:
Imagine, for a brief moment, what it would be like to navigate your way through a crowded city street in Vancouver, British Columbia—without your eyesight. For Bruce Gilmour, this is not just an imaginary scenario—it's his everyday life.
Visually impaired since age 20, Bruce used a cane to get around for years— but began to consider the possibility of a guide dog when he experienced a friend moving around freely and easily with the help of her guide dog. After years of just getting by, he felt the time was right to give it a shot.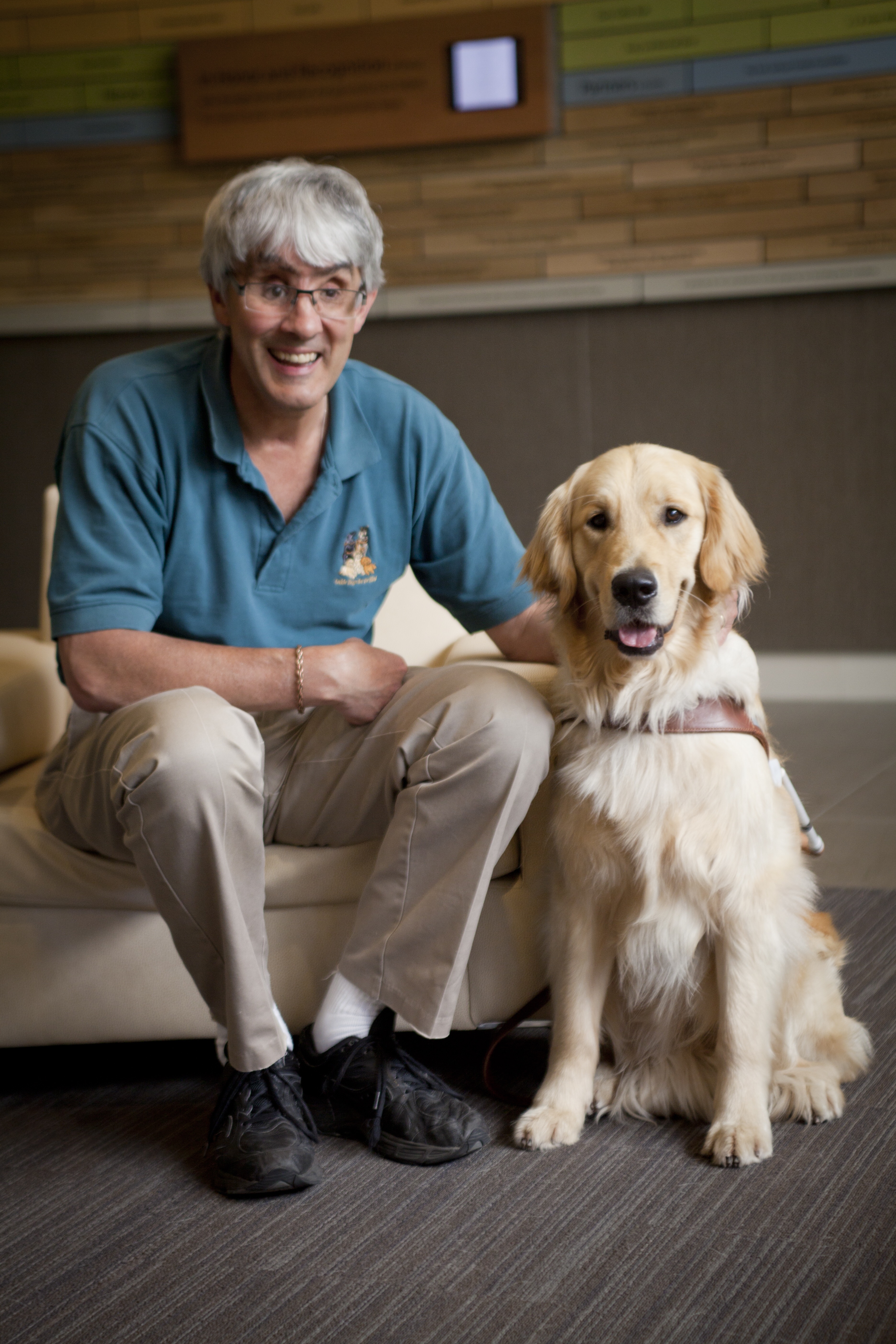 Bruce & Marley
Since that moment, Bruce has had the opportunity to work with five different guide dogs—and his life is transformed. He was introduced to his current companion, Marley, through Guide Dogs for the Blind. "The strength of our bond is perhaps the engine behind the enjoyment and success I experience when out on any outing with Marley. When out on an errand, I am relaxed, confident, motivated, safe, and literally having fun," says Bruce.
He adds, "When on a route, I feed off of Marley and what he is doing for me as much as what Marley gets from me in my praise and reinforcement of what a good boy and job he is doing—for us both, as a team. My smile on my face is coming from my heart!"
This campaign is very close to our hearts. Service Dogs are life savers. Mom and I are the perfect team. With my help Mom is now able to travel and go anywhere we need to. I make sure to keep her calm and detect any attacks before they happen. Did you know Service Dogs come in many sizes? Most people think little dogs like me can't be Sevice Dogs. I have a keen nose that detects medical issues. I am the perfect size for Mom.

To help people like Bruce thrive, please consider donating to Guide Dogs to the Blind[https://www.naturalbalanceinc.com/GuideDogs]. Once there, you can also read about the eight other amazing human-canine teams. There's no better time than National Guide Dog Month to show your support for these incredible people and their four-legged superheroes.
Do you have a special bond with your pet? Tell me about it in the comments below.
Mahalo & smooches!
Kona